Analyze Athletes' Injuries, Performance With New Tech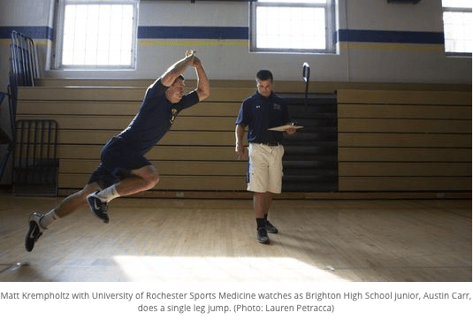 New technology at the University of Rochester Medical Center is helping to collect reams of data, all to build a assessment of individual and team weaknesses and potential injury risks to help predict and prevent injury whenever possible. The computer program takes 3D snapshots every thousandth of a second and measures joint motions of athletes as they move thanks to special armbands.
Over time, researchers hope to build a "heat map" to identify common predictors of injury--anything from knee or ankle sprains to Tommy John tears.
While not all injuries can be prevented, if the project is successful, teams everywhere could benefit from a reproducible program that can quickly identify problematic factors so that athletic trainers and coaches can work with athletes to strengthen these areas and avoid injury.
---
As Austin Carr jumped, touched his toes, did knee bends and push ups, his silhouetted image on the laptop screen glowed in shades of purple and white.
A computer program designed by doctors at the University of Rochester Medical Center created an anatomical profile and captured 3D snapshots, every thousandth of a second, measuring each joint motion as Carr moved. Sensors at other stations in the athletic combine did the same, reading the QR code in a special armband he wore.
The resulting digital file for Carr filled 10 to 15 gigabytes, the equivalent of downloading four feature films — in HD. Similar profiles were built on more than 50 of his Brighton High School classmates this past weekend, and will be amassed for roughly 500 Rochester-area student-athletes as part of the UR Medicine project.
"It's just so much data that we were never able to get before," said Gregg Nicandri, an orthopedic surgeon and one of the physicians on the UR Medicine Sports Medicine team.
There is ample evidence that injuries are preventable. But while studies elsewhere have zeroed in on a particular injury, the effort here casts a wide net.
---
This article excerpt, by Brian Sharp, originally appeared here: http://usatodayhss.com/2015/university-medical-project-uses-new-technology-to-analyze-high-school-athletes-injuries-performance.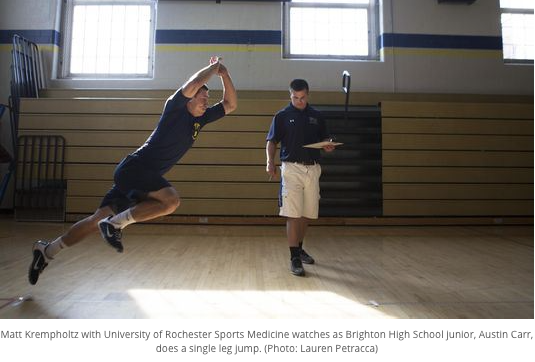 RELATED POSTS