A Tale of Two Campuses: Campbellsville University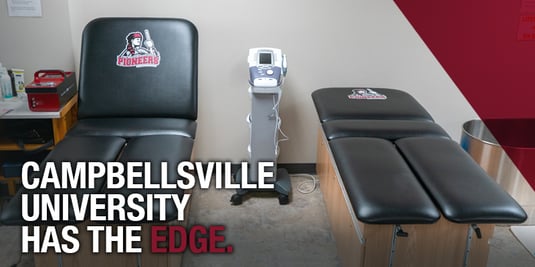 When Joshua Hawkins, MS, ATC at Campbellsville University realized he needed help with a training room renovation, he knew just who to turn to. Hawkins has worked with The Athletic Edge since 2018, and he shares his experience and results of working with AE.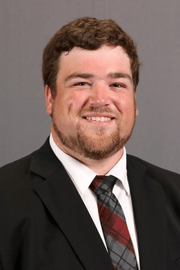 Q&A with Joshua Hawkins, MA, ATC
Athletic Trainer | Campbellsville University

The Tigers purchased two Aluma Elite Whirlpool Tables in the summer of 2018 and gradually added Aluma Elite Treatment Tables, Rolling Stools, Tilt Taping Stations, Aluma Elite Modality Carts, an Edge Sport Treatment Table and Aluma Elite Treatment Tables. By Fall 2019, the Tigers had a renovated space with a fresh, modern look to better serve their student athletes.
According to Hawkins, "Our athletic training room had not seen any major updates since January 2003. It was severely unbranded, dated, and showed every bit of the wear and tear it had taken over the years."
The Tigers chose to work with The Athletic Edge because "Athletic Edge products gave us the right combination of style, professionalism, and branding that we were looking for. The Aluma Elite line was specifically appealing to us for its customization options and its durability," stated Hawkins.

Playing Favorites
"Our favorite Athletic Edge product is the Aluma Elite Treatment Table," stated Hawkins. "Replacing our old treatment tables with these allowed us to modernize the look of our athletic training room while at the same time providing us with a much needed upgrade to better serve our student-athletes."
When asked what Athletic Edge product every athletic trainer/ athletic training room needs, Hawkins voted for taping stations. "Taping stations are extremely customizable down to the design, drawer configuration, and branding options. They can be made to fit any need or personal styling preferences."
The Campbellsville University Harrodsburg Story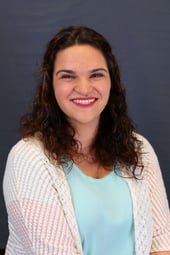 Q&A with Kaitlin Niemiec, ATC
Assistant Athletic Trainer | Campbellsville University Harrodsburg Campus

Meanwhile, less than fifty miles away at the Campbellsville University Harrodsburg campus, the Pioneers were looking for greater function and additional storage space in their athletic training room. They chose to purchase a two-seat Tilt Taping Station and two CAB-010 Treatment Cabinets to address their needs. According to Assistant Athletic Trainer Kaitlin Niemiec, "The treatment tables with the cabinets underneath are a fantastic multi-use product. I can store supplies and equipment without taking up extra space."
Niemiec chose to work with The Athletic Edge because of their reputation for quality products and customization. "I know of other schools that used The Athletic Edge for their taping stations and tables and I was very impressed with the customization of the equipment," stated Niemiec.

If she could choose, Niemiec would select taping stations as her favorite Athletic Edge product. "The taping station is my favorite product because it provides style and function. Whenever someone comes into the athletic training room, they always comment on how nice the tables look. I love the height for taping and the drawers that provide quick access to the supplies I need."

For her product recommendation, Niemiec chose treatment tables. "Treatment tables are the most utilized piece of equipment in any athletic training room. I chose to add the elevated leg options and it's been used a lot in the short time I've had them."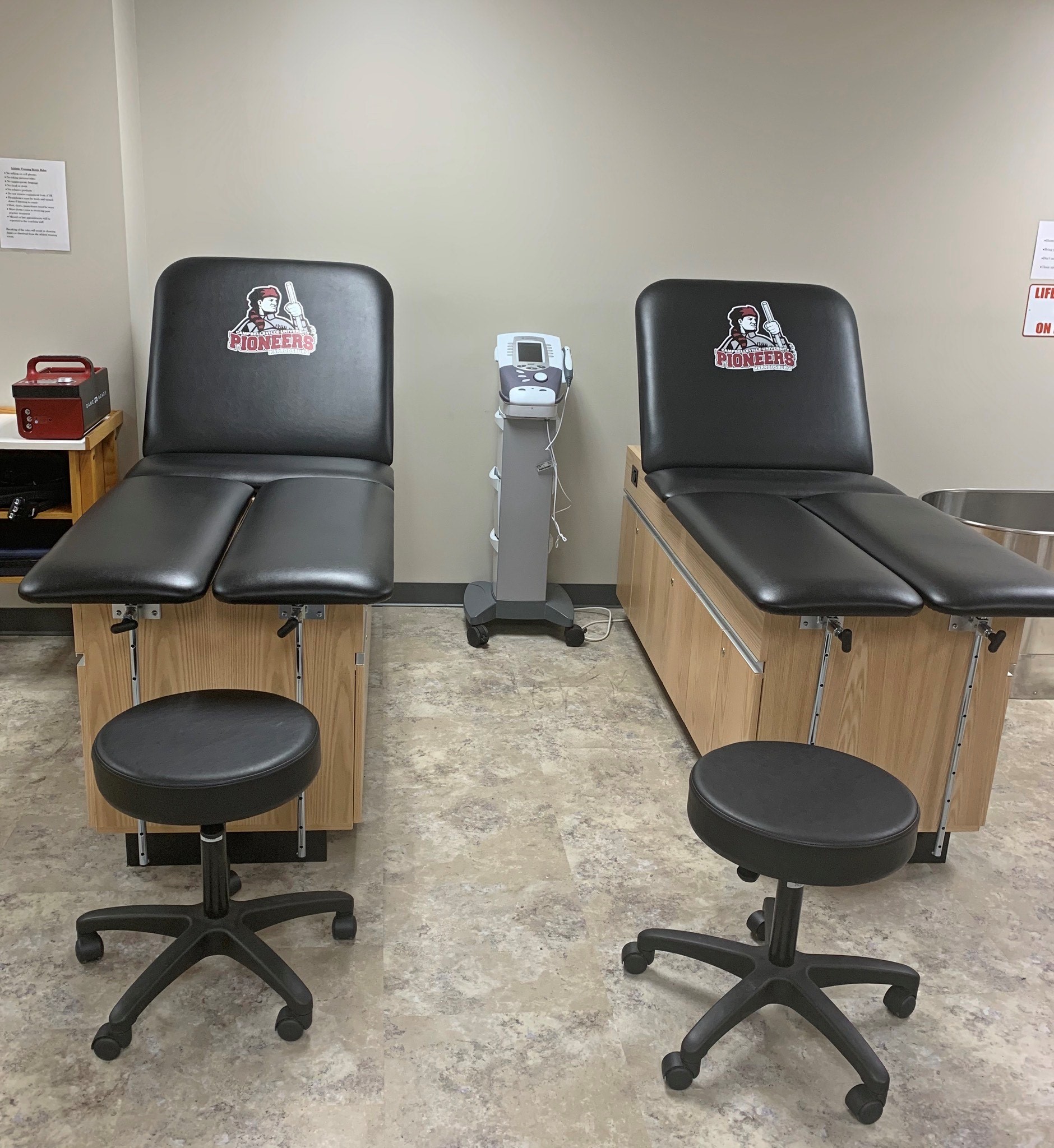 Photos courtesy of Campbellsville University Harrodsburg

CAB 010 Treatment Cabinets
Campbellsville University and Campbellsville University Harrodsburg campus both agreed on their favorite features of their new Athletic Edge equipment.

" I love the custom Pioneers logo," added Kaitlin Niemiec. "I've gotten countless compliments from coaches, athletes and even recruits on how nice the logos look. We're a new athletics program, so having our logo shown off brings pride to this program."


"The vibrant color options and the branding features on the Aluma Elite line make our Athletic Edge products statement pieces of our facility," added Joshua Hawkins.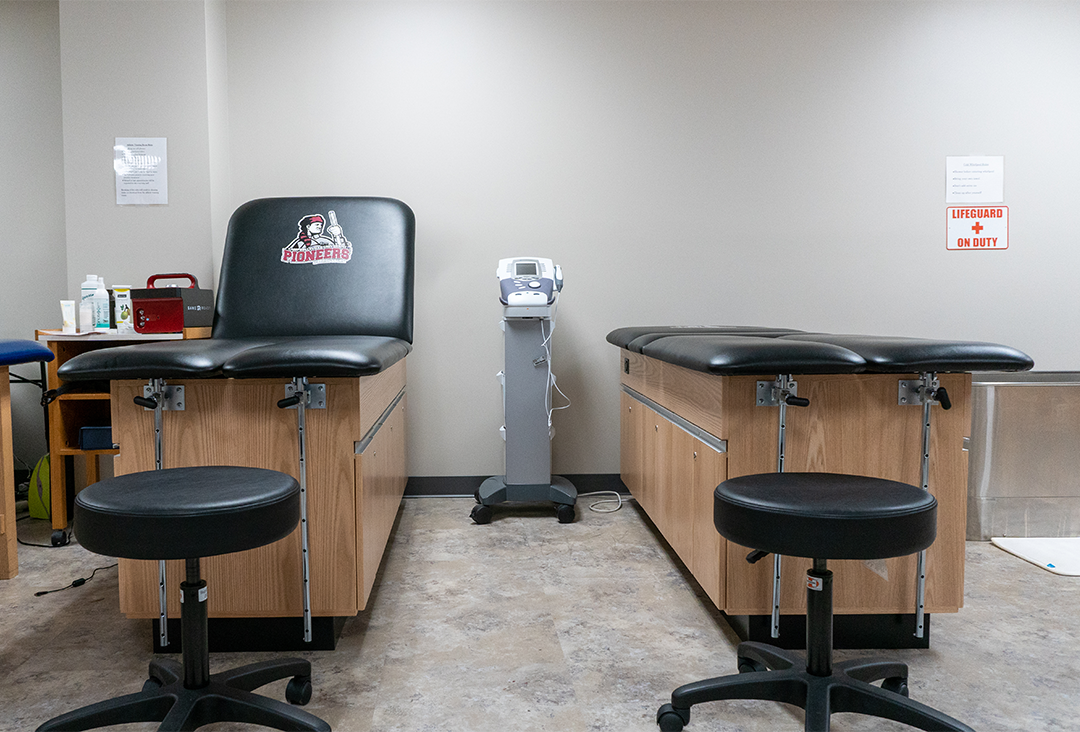 RELATED POSTS