Whether your athletes spend their time on the track, field or court, the locker room is where each athlete will go before and after practice to get pumped up or wind down. There are very few things that can be more frustrating to athletes than an unorganized locker room with improper storage. By providing athletes with a locker room with specialized storage, it will increase security, space, productivity and convenience.
Customize your storage needs
It seems nowadays each athletic team has their own locker room. However, since this is not always the case, it is important to maximize the space to the best your abilities. Ask yourself, "what does your locker room need to do? What are you keeping in your locker room? How is the locker room being used? How can it be used best?"
Keep security and safety in mind
Not only is your team's locker room responsible for storing expensive gear, it is responsible for keeping each team member's personal belongings safe and secure. Consider lockers with built-in safes or key cabinets or drawers that prevent unauthorized access to private materials.
Get bulky items out of the way
Sticks, helmets and pads, oh my! Many sports require multiple pieces of large, bulky equipment that don't fit well in lockers and can be difficult to store. Invest in lockers that provide helmet racks, football pads and/or hockey/lacrosse sticks.

Sacred Heart University Lacrosse locker room- helmet storage
| | |
| --- | --- |
| Southern Oregon University Football locker room - football pad racks | Army West Point locker- lacrosse stick holder |
...Don't forget about the small items
Other items, like shoes and jerseys need to be properly stored to avoid misplacement and mix-ups with teammates. Having a nice shelf, drawer or shoe rack are great for organizational purposes.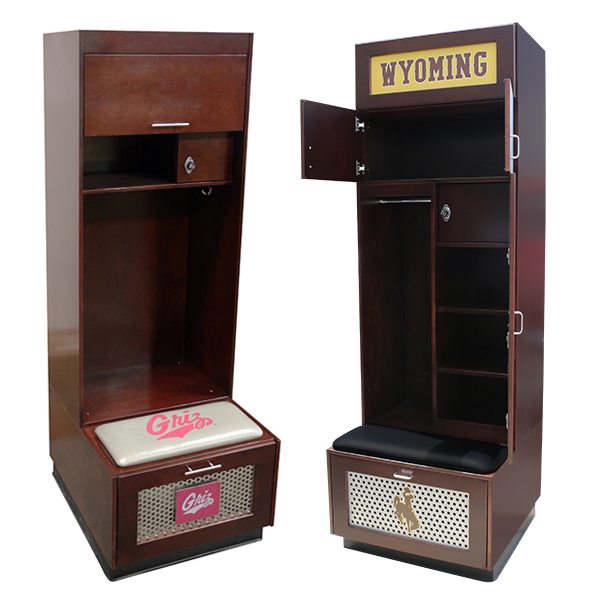 University of Montana Grizzlies & University of Wyoming Cowboys lockers with storage cubbies, safes and drawers.
Future Solutions
Athletic programs change throughout the years, some teams are cut, others are developed. No matter what sports are housed in your locker rooms, the ideal lockers and storage equipment evolve as you do. Invest in versatile equipment that can adapt well into the future- equipment that can hold up to years of use and that can serve more than one potential purpose.
---
Points of this blog was curated from an article written by Denny Hammack, a guest contributor for Athletic Business. The original article can be found here.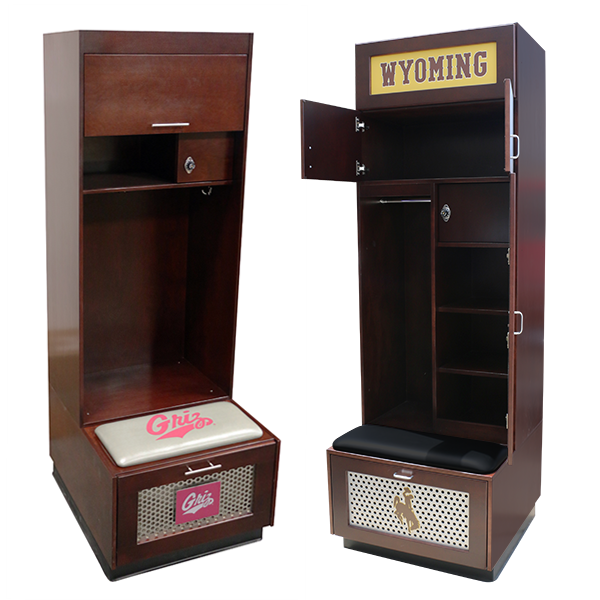 RELATED POSTS