Case Study: Brazoswood High School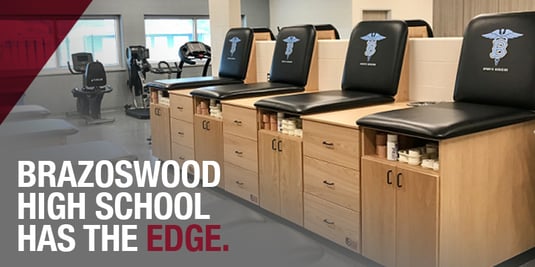 Brazoswood High School in Clute, TX recently chose The Athletic Edge to provide furniture and equipment for their new learning lab. Mark Stephens, MS, ATC, LAT shares his experience working with The Athletic Edge.

Q & A with Mark Stephens
MS, ATC, LAT | Brazoswood High School
Q: Did your athletic training facility present any challenges when it came to treating athletes?
A: "Yes, our older facility presented challenges due to the inadequate space we had to accommodate athletes and staff. Also, the tables we had did not allow us to serve those who preferred to be placed in a comfortable position. We only had flat treatment tables, and we did not have any that would incline or elevate for those who preferred that option. Also, our taping benches were lower to the ground and I was having to bend over all the time while taping ankles. I had horrible back pain because of it."
Q: What made you decide to work with The Athletic Edge?
A: "The first time I laid my eyes on their product in a catalog I was blown away at what they could do. The quality of their product was phenomenal! Also, they were able to customize everything I wanted in my personal requests!"
Q: What are some of your favorite features of your new Athletic Edge equipment?
A: "Definitely without a doubt: the height of the taping benches and the customized color logos."
Q: Are you pleased with the products and service you received?
A: "Absolutely! Working with Jennifer and her team was an incredible experience. The customer service was grade A, first class, and top notch! All of the items came fully assembled when packaged and delivered. All we had to do was connect the back supports of the taping benches to the seats and that was it!"

"I would recommend AE products to others without a doubt! This is money well spent! "

- Mark Stephens, MS, ATC, LAT
Brazoswood High School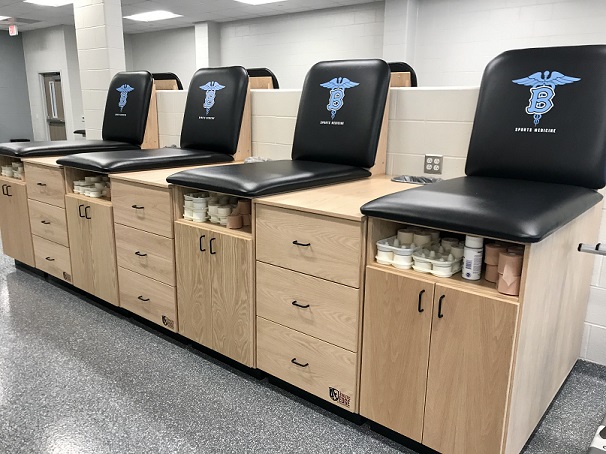 RELATED POSTS