Inside the Modern Team Locker Room
The world of locker rooms are becoming so... awesome. "Awesome" is an overused word, particulatly amoung millennials and Dick Vitale, but there are also moments that put athletes and locker room visitors in, well, awe.
Some player locker rooms are so awesome that they have their own barber shop, like at the Hatfield- Dowlin Complex at the University of Oregon. Clemson's new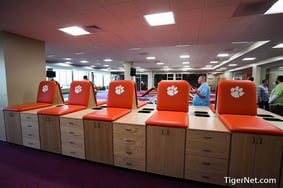 football "playground" boasts a mini golf course, laser tag, movie theater, bowling alley, basketball courty and even a nap room.
What else could team locker rooms possibly add? Truth is they are getting even more impressive in a number of ways. Here are a few areas in which athletes' changing spaces have evolved.
TECHNOLOGY
As Paul Griesemer, senior project architect at AECOM puts it, "Chalkboards once made way for white boards, white boards have made way for video projectors, and projectors have made way for smart TV screens, where coaches can diagram directly on the screen and pull up every sort of specific digital video replay of action that either occurred in practice or in a game. The database of knowledge that's available now for coaches to use locker rooms as learning classrooms is huge."
Of course, players have their own technological expectations. "At one point in time, some architects tried to design a locker space for a specific device — for an iPad, for an iPhone, for a Samsung. Well, these devices change so often, that really the most important thing to do is provide a place to store the device, whatever it is, but make sure there's power," says Scott Radecic, senior principal at Populous. "Let's make sure there's a couple of power outputs, because kids today will have more than one device and you want to keep that stuff charged. A lot of coaches have gone paperless. All their game plans now are either on iPads or computers. So these are Wi-Fi-ready rooms, and the room itself has become more technologically advanced."
SIZE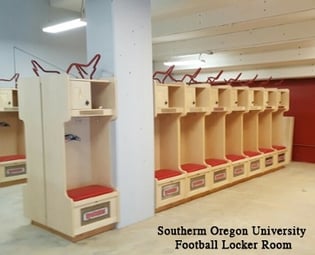 Individual lockers are getting bigger, as are entire locker rooms — depending on the chosen configuration. "Sometimes they can become very functional rectangular spaces with aisles or rows. Sometimes coaches tell us they want every locker to be along the perimeter wall," Radecic says. For example, Southern Oregon University installed 114 custom-built football lockers to specifically accompany the team at Radier Stadium.
Locker size may be dictated by the demands of the given sport. Football players have more equipment to store than basketball players, and hockey and lacrosse goalies have more equipment than their teammates, and thus their lockers will be larger than others in the same room.
CONFIGURATION
How a team locker room is laid out can vary by sport, as well. The relative smaller size of a basketball roster lends itself to a circular "huddle" of lockers. "From a football standpoint, sometimes you want the shock-and-awe effect," says Griesemer. "You walk in the locker room and it's this vast expanse of highly finished lockers, and there's lighting and it's a grand space. With a lot of the basketball lockers I've been involved with, it's a much more cozy sort of communal living-room-type space."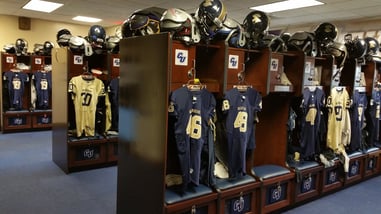 "More teams are wanting locker rooms to be singular communal spaces, so you're looking at more larger, wide-open spaces than the old spaces with alcoves and alleys of lockers," Griesemer says. "You want the coach to be able to communicate with the entire team from one central spot, so that sort of made the locker room itself bigger."
IMPRESSION
A locker room must be — first and foremost — functional, able to meet the day-to-day needs of its player occupants. But there's no discounting the dual role of today's team spaces. "Many of the coaches and equipment managers we talk to want to be able to flip a switch, metaphorically, and all of a sudden it becomes a recruiting showpiece," Radecic says.
Team logo displays in locker rooms have elevated from the carpet, where they often wound up being the least trafficked areas in the room, to the ceiling, where dimensional displays can be specially lighted for dramatic effect. Some locker rooms will include tribute lockers honoring great players from the past or feature storefront-type displays with mannequins modeling the equipment that recruits may one day wear. "We want to have a certain mood when people are working and a certain mood when recruiting," Radecic says. "So we're doing more things with custom materials in ceilings and customized lighting and different digital lighting displays that allow the mood of the space to change from game day to non-game day."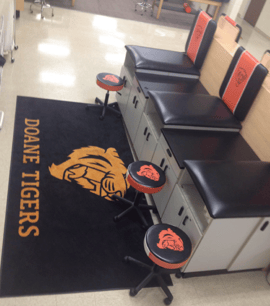 Today's locker rooms can take any number of forms to reflect a range of team philosophies. "You'll have both ends of the spectrum," Griesemer says. "I've actually had some clients say that they don't want the health club spa environment. They want a place where people — men and women — come to work: 'You're here to be an athlete. You're not here to lounge.' Sometimes it's the persona of the coach or the athletic director."
At the end of the day, a locker room is not only where athletes store their equipment and get ready for games, practices, etc., it's where team bonding occurs and memories are made. No matter how awesome your locker room is, athletes will continue to grow and thrive in their facility.
---
This article was curated from the article "Inside the Modern Team Locker Room" written by Paul Steinbach in February 2015 in Athletic Business. This article originally appeared in the January/February 2015 issue of Athletic Business with the title "Suit Up."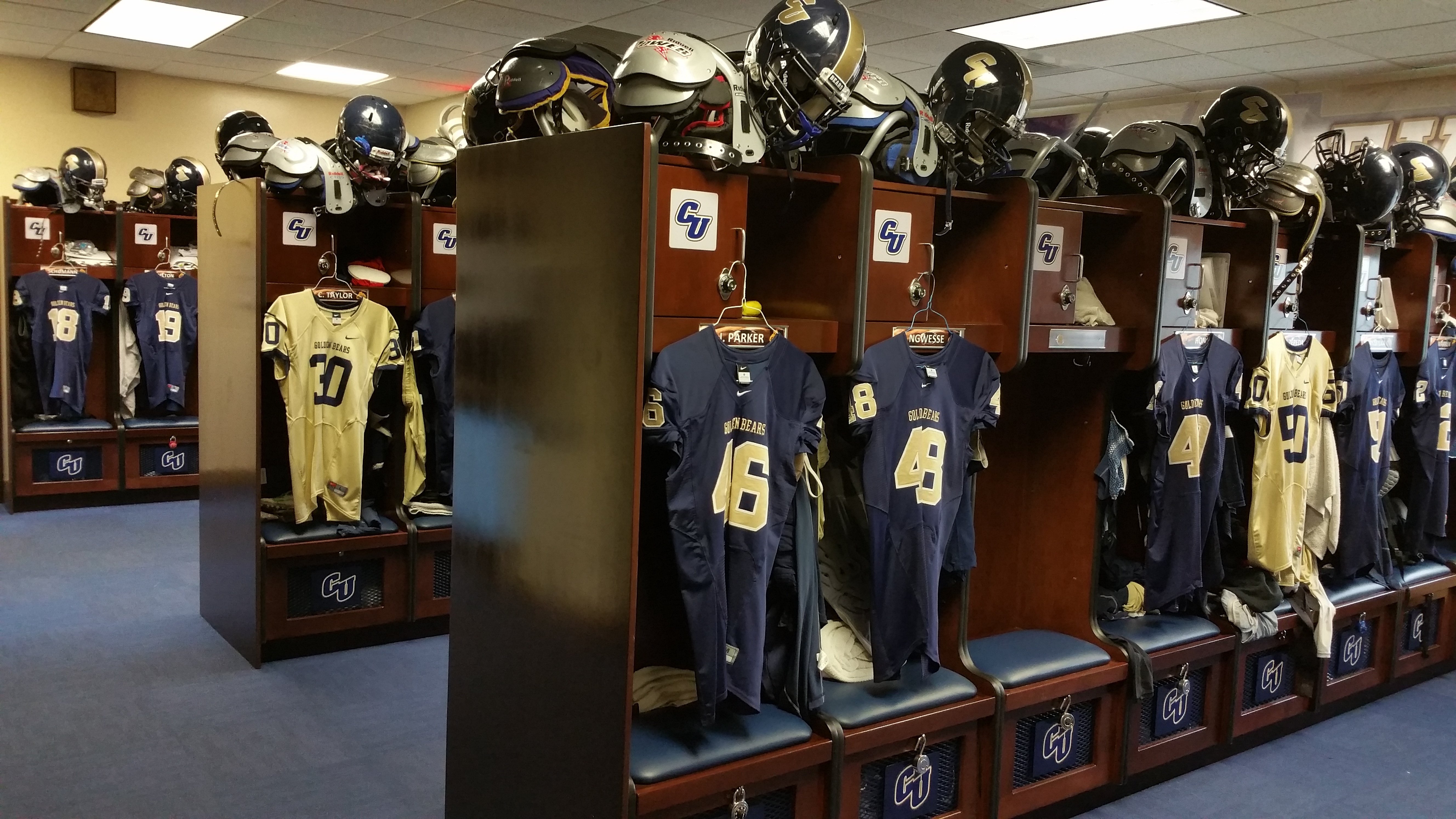 RELATED POSTS