Top Trends: Reinventing the Locker Room
Sports fans often hear the adage that team chemistry is what makes average teams good, and good teams great, but chemistry doesn't happen on accident. It takes a clear vision, thoughtful leadership, communication and structure. One space that can have a profound impact on a team and their chemistry is the locker room.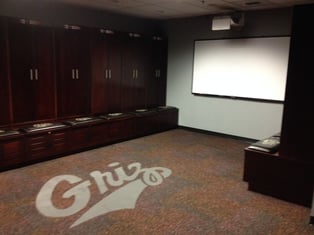 Modern locker rooms have evolved from simple changing areas to engaging
environments that not only reflect the psyche of the program, but also set the stage for the routines and cultures that athletics departments seek to create. In today's increasingly competitive world, locker rooms are another part of the recruiting process to win over top athletes, donors and sponsors. This article, written by Drew Berst, Director of Collegiate Sports and Fan Experience Solutions for Dimensional Innovations, has pin-pointed the following six elements as the key to defining expectations.
Culture
Locker rooms, training spaces, and practice facilities are often centerpieces in the culture that athletics directors and their programs seek to instill. Theses spaces must be reflective and Representative of a coach's or administrator's vision for their programs and the growth of their student athletes. Simple functionality also plays a role. How does the layout effect the environment, and is enhancing or inhibiting the goals and communication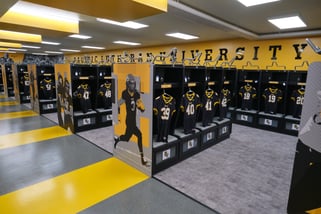 of the team? For example, can a coach see and talk to all of his or her players at once?
Locker rooms are the embodiment of a program's journey through the past and where it needs to go. They physically support the lessons being taught, the values being ingrained and the messages being communicated. These are the spaces where future leaders learn some of their most valuable.
Recruiting
Whether a locker room is used for game days only, practice only, or both, the spaces will play a key role for the existing team but also in the recruitment of prospective student-athletes. And, while honoring the traditions of a program and enhancing brand recognition are important, understanding the interests of an 18 to 21 year old is far more vital when it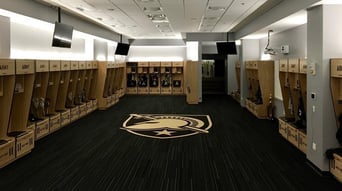 comes to the design flexibility of a locker room. These spaces tend to be less flexible to the public and can be more tailored to the mindset of the student-athletes. Influential factors in a recruit's decision making process include coaches, academics and technology and the spaces that are created should reflect these interests.
Where Brands and Sponsors Meet
Extending the team's brand throughout the locker room and players' lounge in a dynamic and unique way can no longer be overlooked. The best team branding advances the brand by supporting desired perceptions and expressing itself at every touch point. When players feel like they're part of the greater brand and understand the heritage, they develop a stronger connection to the team, coaches and management, creating a winning environment. Sponsorship opportunities are also finding their way into the players' lounge, several of which are meant to showcase their exclusive apparel and equipment contracts.
Amenities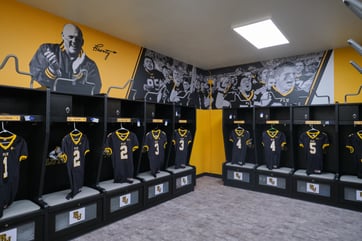 Team are developing elaborate, branded social spaces which include lounges, cafes,
juice bars and even outdoor seating areas which allow players and coaching staff to connect and relax in a comfortable, home-like environment. Teams justify adding things like miniature golf courses, laser tag, barbershops and bowling lanes as relatively inexpensive additions that offer them a slight recruiting edge. After a decade of increased athletics construction across the nation, being a competitive sports program has taken on a new definition. Football stadiums and basketball arenas now must be complemented by practice facilities, professional quality locker rooms, players' lounges and luxury suites to secure more money from donors.
Technology + Responsive Lighting
Integrated technology isn't just a passing fad. Both collegiate and professional athletes have grown up with technology at their fingertips and will demand access even in the locker room. Teams are beginning to embrace the increased use of smart phones, iPads, touch screens, videos and responsive lighting as a regular part of player engagements. Teams can watch other games, highlights, view team states, connect through social media, and be reminded of the team's heritage and history all from the comfort of the locker room and lounge. We also know enough about technology to safely assume it will change dramatically and quickly, and designs should anticipate this challenge. When
technology is integrated into a locker room, it must be flexible. The popular devices, hardware, software, programs, applications or even user consumption of today is likely to be different tomorrow. We must allow spaces to be changeable in an efficient and cost-effective manner.
Cleanliness + Customization
The practicality of cleanliness and the durability to withstand daily wear and tear is also critical when re-thinking locker rooms. Locker rooms and equipment with easily cleanable surfaces are crucial to help keep players healthy and to prevent the spread of diseases and viruses.
Ultimately, institutions investing in the overall improvement of spaces dedicated to their student-athletes are seeing a return in recruitment, performance and donor support all of which factor into a winning season.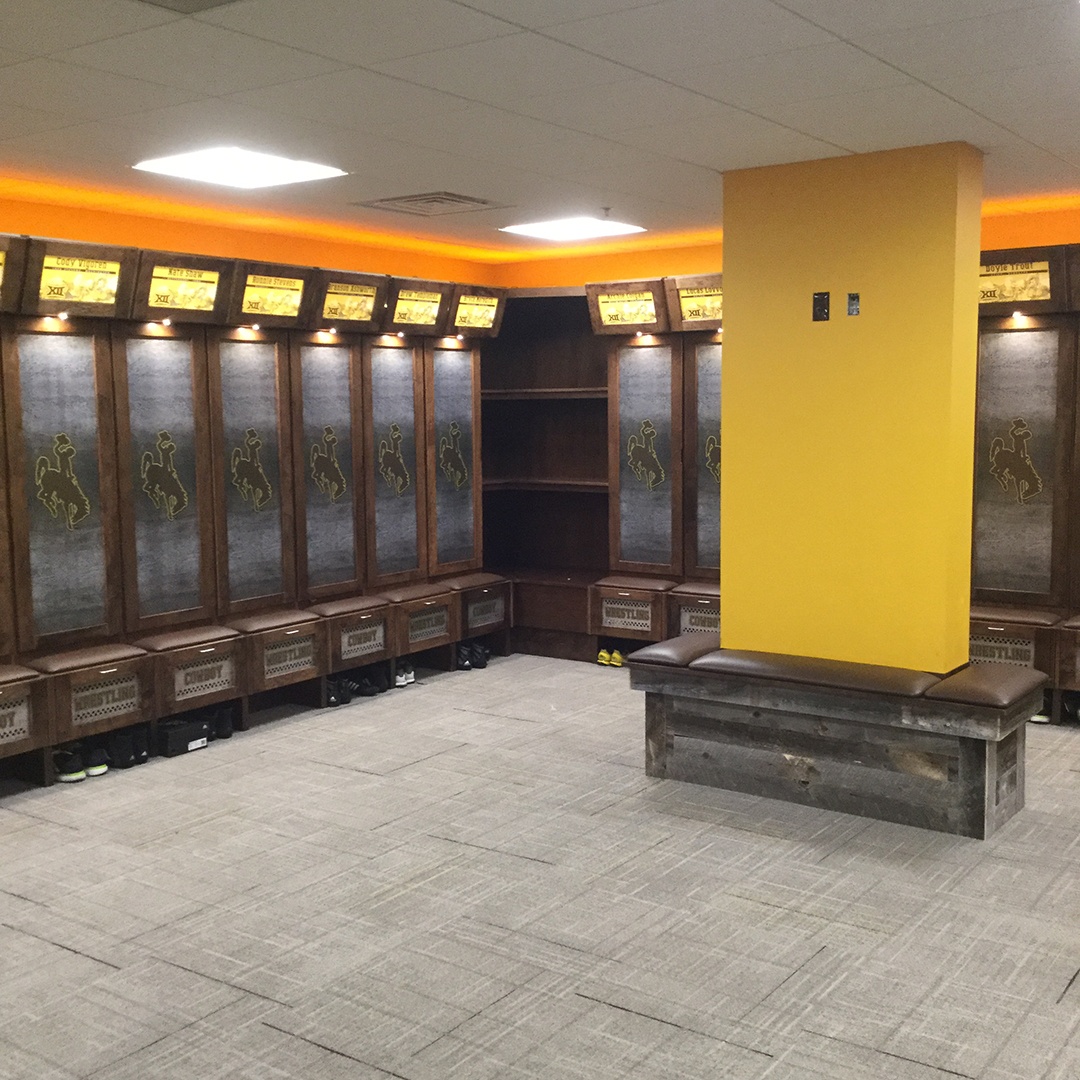 RELATED POSTS