New Tech Helps Detect Injuries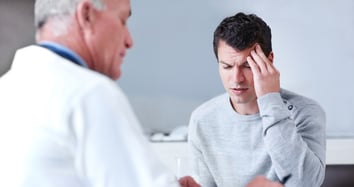 Today's athletes and athletic trainers are embracing new tech like low-level laser therapy or whole-body vibration to help treat and prevent injuries. And now new technology may be on the way to help athletic trainers, coaches and sports medicine physicians go even further and actually detect injuries.
The University of Miami along with a Pittsburgh-based software company have developed concussion-detection goggles that can be used both with athletes and soldiers with head trauma. The study plans to test the technology on at least 200 athletes at UM.
The goggles use eye tracking and stimulus to meaure eye movement, speed and symmetry of dilation to help immediately determine if athletes are safe to return to the game or if they need further medical attention.
The small size of the goggles makes it easily mobile for home and road games.
Researchers expect to spend another 18 months to develop the goggles then build a production model for FDA approval.
---
Like millions of other Americans, Shannon McCarthy and Ronnie Johnson watched the Women`s World Cup semifinal on TV recently and cringed when they saw the head collision between U.S. midfielder Morgan Brian and German forward Alexandra Popp as they leaped for the ball. Both ended up on the ground, Popp with a bloody gash.
Four minutes later, both were back in the game after quick sideline examinations by doctors. Brian said she was asked to touch her finger to her nose, follow a moving finger, and to repeat the words "car," "apple," "elbow," "ball" and "house" three times.
McCarthy and Johnson watched with greater concern than the average fan because they play soccer for the University of Miami. McCarthy is a defender, Johnson a forward. Neither has ever had a concussion, but they`ve had teammates forced to quit the sport as a result of head injuries.
That is why Wednesday morning, McCarthy and Johnson were at the UM Hecht Athletic Center, testing concussion-detection goggles being developed by UM doctors and a Pittsburgh-based software company called Neuro Kinetics. The project is being largely funded by a $500,000 grant from the NFL, Under Armour and GE. The U.S. Department of Defense has also been involved, as the goggles can be used on the battlefield for soldiers with head trauma.
---
This article excerpt, by Michelle Kaufman, originally appeared here: http://www.athleticbusiness.com/more-news/concussion-detecting-goggles-may-soon-be-on-way-br.html.
RELATED POSTS