Athletic trainer vs. personal trainer...what's the difference?
The term "athletic trainer" has been used loosely and incorrectly for years. Often confused with a personal trainer, there is a difference. "Really?" you may ask, but the difference is something that should not be confused.
This blog, originally titled "Personal Trainer Vs. Athletic & Conditioning Trainer" was written by Dana Severson for work.chron.com. The original article can be found here.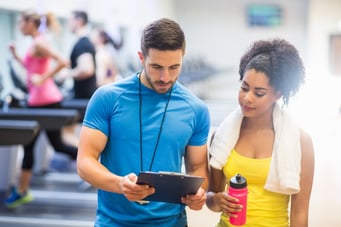 Personal Trainer
via shutterstock.com
Although both are considered trainers, a personal trainer should never be confused with an athletic and conditioning trainer. Personal trainers typically work at gyms and health clubs, helping the general public improve their level of fitness. Athletic trainers, on the other hand, are most often found at colleges, hospitals, clinics and professional sporting teams, helping patients or clients recuperate from injuries.
Personal Trainers
Personal trainers evaluate a person's fitness level and then come up with an exercise regimen to improve the individual's health, weight, and even nutrition. They also teach clients how to perform exercises properly and motivate them to push through their current level of fitness. Employers typically prefer to hire candidates with professional certifications. Both the American Council on Exercise and the National Academy of Sports Medicine offer certifications programs for personal trainers.
Athletic Trainers
Athletic trainers, on the other hand, are highly qualified, multi-skilled health care professionals who collaborate with physicians to provide preventative services, emergency care, clinical diagnosis, therapeutic intervention and rehabilitation of injuries and medical conditions. Athletic trainers work under the direction of a physician as prescribed by state licensure statutes. The NATA Code of Ethics states the principles of ethical behavior that should be followed in the practice of athletic training.1
Differences
The biggest difference between personal trainers and athletic trainers is education. While prerequisites vary by employer, personal trainers typically need only a certification to work with clients. The same can't be said for athletic trainers. Employers often seek candidates with at least a bachelor's degree in athletic training, but some require a master's degree in the field to practice. The clientele is also a big difference. Personal trainers work with people who want to improve their health and level of fitness -- "want" being the operative word. Athletic trainers work with people who need to improve their health, range of motion or mobility, among others. Also, salaries are fairly divergent. On average, personal trainers earned $36,900 a year in 2012, while athletic trainers earned an average of $44,010 a year, according to the U.S. Bureau of Labor Statistics.
Similarities
There's not a lot of crossover between the two occupations. This isn't to say the roles can't go hand in hand. In fact, after working with an athletic trainer to rehabilitate a sprained ankle, for example, an athlete may choose to enlist the help of a personal trainer to return his strength and endurance to the levels they were before the injury.
Career Choice
A person who fancies himself a fitness enthusiast, with a solid understanding of exercise -- both cardio and strength -- may be best suited to become a personal trainer. Someone who not only understands exercise, but also has an aptitude for retaining medical knowledge could find a great deal of success as an athletic trainer.
Sources:
Athletic Training. (2018, March 08). Retrieved March 22, 2018, from https://www.nata.org/about/athletic-training
RELATED POSTS