Clearing up the term "athletic trainer"
Athletic trainers are critical. However, the term
athletic trainer
tends to be misused and misinterpreted. Alyson Footer, a reporter for MLB.com
digs into
and clears up the term of
athletic trainer
.
When Carlos Beltran and Mike Cameron met in a gruesome face-to-face collision in the outfield at PETCO Park in 2005, Mets head athletic trainer Ray Ramirez tended to the mess that included blood, fractured bones and a concussion.
hen Larry Dierker collapsed in the dugout from a grand mal seizure during an Astros game in 1999, two members of the club's support staff rushed to his aid: athletic trainers Dave Labossiere and Rex Jones.
When Bryce Florie was hit with a line drive that broke his eye socket in 2000, several Red Sox personnel rushed to the mound, but only head athletic trainer Jim Rowe could give the injured pitcher immediate help.
Similar circumstances -- though most of them, thankfully, are on a much less severe scale -- pop up through Major League Baseball on a weekly basis. The point of listing these examples is not to show what athletic trainers have in common. It's to show how athletic trainers are different from personal trainers.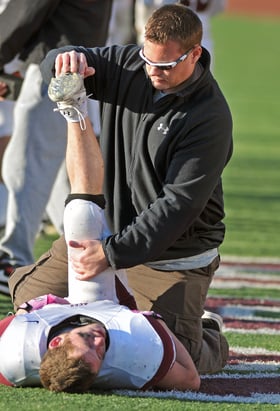 via shutterstock.com
In past years, differentiating between the two wasn't a hot-button issue. But times have changed. The BALCO scandal -- and more recently, the Brian McNamee-Roger Clemens spat -- has brought the word "trainer" into the sports world's everyday lexicon.
"Personal Trainer" vs "Certified Athletic Trainer"
Trainers are making headlines, and, to a certain degree, athletic trainers are as well. Thanks to the McNamees and Greg Andersons of the world, all trainers are seemingly, from a public perspective, lumped together. And the image isn't always positive, especially for certified athletic trainers.
This year, Major League Baseball's athletic trainers are making a concerted effort to separate themselves from personal trainers. The differences between the two are staggering.
Athletic trainers are recognized by the American Medical Association as health professionals. They are required to have a four-year degree, they must pass a three-part exam, and they must keep their skills current by participating in continuing education. Athletic trainers also answer to a governing body -- the National Athletic Trainers Association [NATA]. Personal trainers, on the other hand...
"People ask, 'What's the difference between you and a personal trainer?'" Dodgers head athletic trainer Stan Conte said. "I say, 'Well, I went to school for six years, I took exams, I'm certified and everything else. You want to be a personal trainer? There, I just made you a personal trainer. You're a personal trainer.'"
Conte, formerly a member of the Giants' athletic training staff, has first-hand knowledge of the trouble a personal trainer can cause in a Major League clubhouse. For years, Anderson, Barry Bonds' personal trainer, had full access to the Giants' clubhouse, despite Conte's recommendations that he not be allowed in.
Conte, who left the Giants after the 2006 season, preferred not to delve into his past experiences, offering only, "If you want to see what could go wrong, that's taking it to the final level." Now in his second year with the Dodgers, he's unified with the league's athletic trainers in attempting to educate the general public about his profession.
"There are people who do a good job as personal trainers," Conte said. "But professional athletes have to be held to a higher standard. And being a good guy and being able to count from one to 10 may not be the minimum requirement."
"When you hear 'athletic trainer,' you think of working at a gymnasium throwing weights around," said Tigers assistant athletic trainer Steve Carter. "Athletic trainers treat, evaluate, rehab and prevent injuries. Exercise is 25 percent of our job."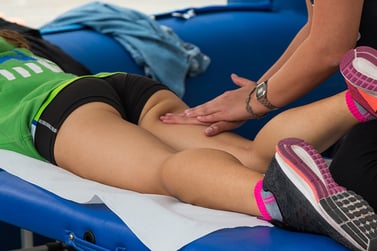 via shutterstock.com
For Labossiere and Jones, the Astros' athletic trainers, differentiating themselves from personal trainers is essential, not to mention timely. Employed by one of the four teams that Clemens played for during his 24-year career, both were asked to give depositions with congressional lawyers prior to the now-infamous Feb. 13 hearing involving Clemens and McNamee.
"Does it make sense to you that an athletic trainer like Mr. McNamee would be performing injections of lidocaine for low-back pain?" senior investigator Brian Cohen asked Labossiere.
"Well, I really want to clarify something," Labossiere answered. "He is not an athletic trainer. ... People call themselves 'trainers.' In old parlance years ago, trainers were people like me who were certified. We are now 'athletic trainers' for that very reason with all this preponderance of personal trainers and people like that who have no qualifications and just set up a shingle."
Like many athletic trainers throughout the league, Labossiere is left to continually explain what he does for a living to the less informed.
"It's pretty disconcerting when every friend you have that watches the news comes up to you and says, 'Oh, you're a trainer and you do those things, too,'" he said. "That's not the case. What McNamee did was against the law, first of all. You can't inject people without a doctor's OK. This person was doing it on his own and calling himself a trainer. We are not those type of people. We have strict guidelines we have to follow for all our medical practices."
After the Mitchell Report was released in December, Orioles head athletic trainer Richie Bancells, the president of the Professional Baseball Athletic Trainers Society [PBATS], printed out and read the entire document. "Athletic trainer" was used 19 times. In each instance, Bancells said, the term was used accurately.
via shutterstock.com
"But here we are, the ones having to defend ourselves," Bancells said.
Because the word "trainer" has carried such negative connotations in the past five years, perhaps a name change is in order. Major League athletic trainers have discussed the possibilities, but it's unlikely they'll make the switch.
"That's been hotly debated in NATA," Bancells said. "This is a debate that has gone back a dozen years. We realize this name -- trainer -- is a historical thing. Probably in many ways, it doesn't apply today."
A few names have been kicked around, including sports therapist and athletic therapist.
"I think it might confuse people even more," Conte said. "I wouldn't be opposed to it, but I guess I'm comfortable with the title. I'm comfortable with who I am. I was in the middle of the ugliness of it all [with the Giants], but I never thought I was less of a person or less of a professional doing what I did."
To Bancells, the best course of action is to simply get the word out that athletic trainers are not personal trainers, and vice versa.
"The public should know what they're getting as a health professional," he said. "There's that stamp -- this is what they are. A personal trainer, you don't know what you've got. You do know what you're getting with an athletic trainer."
RELATED POSTS