Case Study: Wood River High School Athletic Training Facility | Hailey, ID
"When I arrived at Wood River High School in 2016 the athletic training facility was in great need of upgraded treatment tables and other equipment. My first goal was to replace the existing treatment tables with tables that were longer and wider to accommodate larger patients, and also more versatile for my needs. I also wanted the facility to have a more professional look with greater curbside appeal for our student athletes while also exemplifying school pride by showcasing our school colors and logo branding," explained Wes Sphar, ATC, LAT.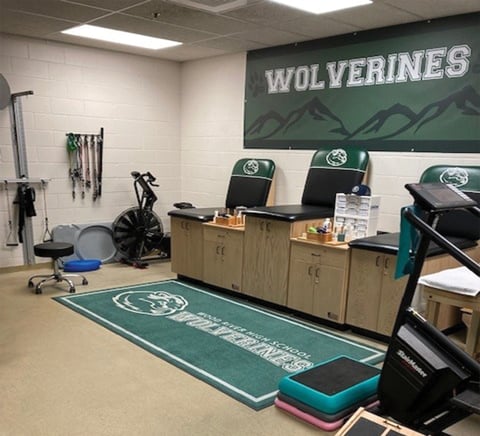 Photo courtesy of Wood River High School
The Project


Wood River High School in Hailey, ID recently upgraded their athletic training room and purchased four Edge Sport Treatment Tables, a Thera-P Electric Treatment Table, an Aluma Elite Taping Station, and a customized logo rug. "After I received the treatment tables, a generous longtime educator and coach made a donation to purchase the three seat taping station module to match the treatment tables, which replaced two outdated single taping tables," added Sphar. "The taping module added much needed storage capability, stations for students to practice taping skills in my Sports Medicine classes, and provided space for the daily taping needs of our student athletes."
Meeting Athletic Training Needs
"As a regular practitioner of manual therapy I was able to purchase a Thera-P Electric Treatment Table to accommodate much needed ergonomics," added Sphar. As an important part of updating their athletic training facility, Sphar identified treatment tables, taping modules, modality cabinets, and exercise equipment as the Wolverines' most important athletic training room needs.

"All of the Athletic Edge products, I would say, are equally valuable," added Sphar "including the large, wide, versatile treatment tables. It is convenient to have a taping module that was custom built so one section is higher providing a surface to tape from that is ideal for myself and students who are tall. The lower stations are great for others who are shorter. The storage space under the treatment tables and taping module also have been awesome."

After a successful update Sphar noted, "We are what I would now consider to be a state-of-the-art high school athletic training room. I love the overall look and quality of the treatment tables, taping modules, and modality cabinets."
"Although this project has been a few years in making it has been well worth it. We now have a beautiful, professional facility to be proud of." --Wes Sphar, LAT, ATC
Wood River High School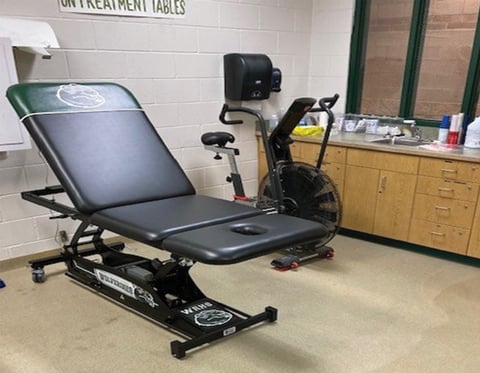 Photo courtesy of Wood River High School
Wood River High School and Wes Sphar, LAT, ATC partnered with Henry Schein and The Athletic Edge to solve the challenges of table size and functionality, storage, custom branding, and versatility for their updated athletic training room. "When I was in the research mode trying to decide what company I wanted to purchase from, I took lots of time and looked at many different manufacturers. In the end, I wanted to go with a company that simply had a high quality product and I felt for me and my needs that was Athletic Edge hands down."

In addition to choosing superior products, Sphar also elaborated on the custom branding options. "Adding the branded floor rug with the WRHS logo simply added a finishing tough to the decor of the facility, as well serving as a cushioned surface to stand on when taping for long periods."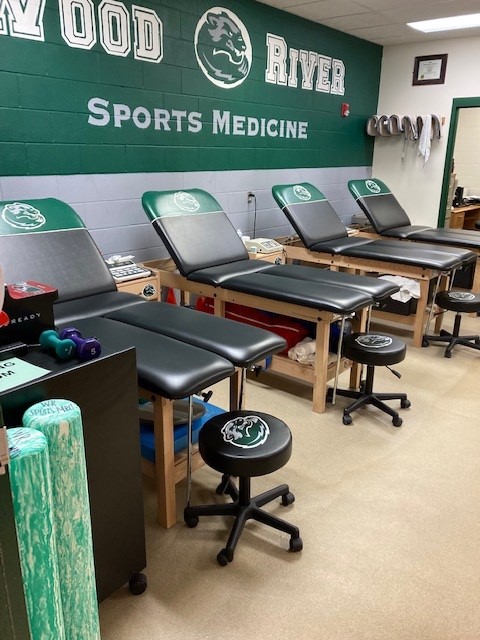 RELATED POSTS