Clemson University Training Room
The Athletic Edge is super lucky to have some of the greatest customers in the world! We love helping each team, school and organization create a lasting impression with the design and presentation of each new or remodeled facility.
One of the latest facilities The Athletic Edge was lucky to have been a part of is Clemson University's new Allen N. Reeves Football Complex. This 142,500 square foot building includes a dining area, meeting rooms, outdoor players' village, napping room, 23,000 square foot weight room and a hydro-therapy room to name a few features.
Here at The Athletic Edge, our favorite feature of this unbelievable center is the Training Facility. Although this may be bias (since some of our great products live here) the training room is such an important part of keeping the athletes healthy!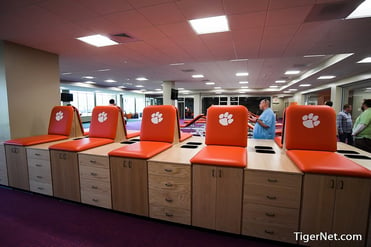 Taping Stations
One Athletic Edge product you will find in the training room are multiple taping stations. Our taping stations are available in multiple configurations and are the perfect cost-effective solutions for any training facility.
Clemson chose to suit their training room with custom taping stations configured from our 2-seat modular taping station with tilt-back. These tables are perfect for showcasing custom branding featuring your school, organization or team logo. Not only are they handsome, the 2" high density foam offers comfort and durability. Fitted throughout with shelves and cabinets, athletic trainers have ample storage for all of their athletic training needs.
Another favorite feature of the training room are the rows of the our THERA-P Electric Treatment Tables and our Leg and Shoulder Therapy Table.
THERA-P Electric Treatment Table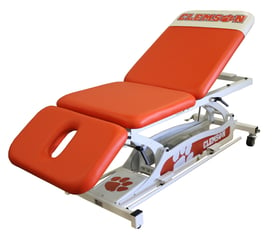 Our THERA-P Electric Table is absolute state-of-the-art. The table is easy to use and is offered in six top configurations, allowing therapists and athletic trainers to choose a table that best meets the needs of each patient. The THERA-P table is ultra-durable with a lifting capacity of 400 lbs. to 600 lbs. (depending on configuration) and can be used for all sorts of treatments including massage, chiropractic and/or therapy.
The Leg and Shoulder Therapy (LAST)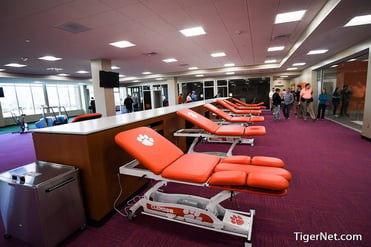 Table is an ergonomically designed table that is the first treatment/exercise table of its kind. This table supports bilateral training and specific anatomical positioning to achieve the desired results for both professional athletes and weekend warriors. The LAST Table was co-designed by an athletic trainer, who, through years of experiencing working with professional athletes, realized that athletes were being treated and trained in a less-than-optimal anatomical position. This treatment table's unique design allows for patient positioning and range of motion to perform a wide range of activities using one stable platform.
Sources:
http://www.greenvilleonline.com/story/sports/college/clemson/2017/01/31/clemson-opens-new-football-center-just-time-signing-day/97274716/