Texas A&M Plays "Smart" Thanks to The Athletic Edge™
---
Team to debut first-ever six-foot SmartCart during Saturday's game
Watertown, SD, September 2, 2015 — When the Texas A&M Aggies kick off the 2015 college football season against the Arizona State Sun Devils this Saturday at Houston's NRG Stadium, the team will have more than just a home state advantage: Its athletic trainers and players will benefit from a brand new product by The Athletic Edge ™, one of the nation's largest manufacturers of beautifully designed and rugged products for athletic trainers, physical therapists and other health care providers.
Texas A&M commissioned a six-foot-long version of The Athletic Edge's new SmartCart, featuring a custom oxygen tank holder. Complete with three lockable storage sections, the mobile and all-weather cart-on-wheels will house medical supplies such as backboards, walking boots and medical kits, bringing supplies and a workstation right to the sideline. And with a two-inch cushioned top with lift back, it also serves as a combination taping station/evaluation table, able to treat one supine or up to three seated players at a time.
Texas A&M's cart also showcases its team colors and logos through The Athletic Edge's ™ custom branding options, including team logo colors and fully skinned vinyl graphics. "We are honored not only that we could collaborate with Texas A&M on the first-ever edition of our six-foot SmartCart, but that they are debuting this product during the first game of the 2015 college football season," said Jim Engels, CEO of The Athletic Edge ™. "This season opener is the perfect showcase for our brand new product, which is set to appear on a number of college football sidelines this season, providing useful and necessary sideline support and serving as an attractive showpiece to generate team pride and spirit in both athletes and boosters."
The Texas A&M Aggies vs. Arizona State Sun Devils game will be televised nationally starting at 6 p.m. CT on Saturday, September 5, 2015 on ESPN.
---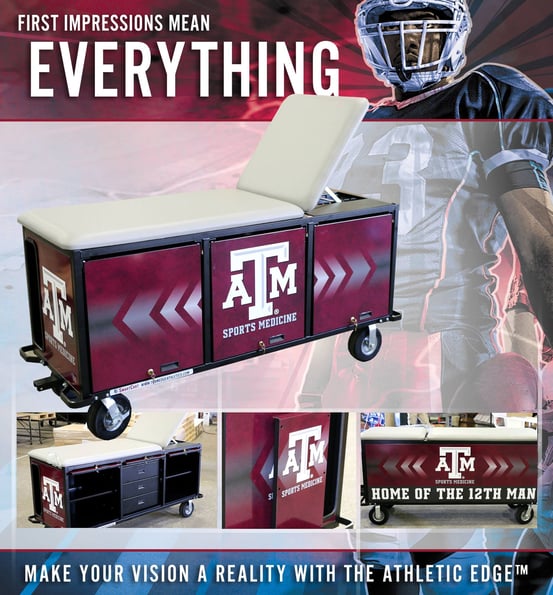 ---
About The Athletic Edge™
Part of Pivotal Health Solutions, The Athletic Edge™ partners with athletic programs nationwide to plan and build locker rooms, training areas and rehabilitation settings designed to make a statement, inspiring athletes, alumni, donors and visitors. Our unique standard multiconfiguration modular designs fit any space, are durable and professional and may also be custom-built and custom-branded. For more, visit teamedgeathletics.com.
in your area or to order the SmartCart or please contact our customer service team at (800) 743-7738, or via email info@pivotalhealthsolutions.com. and they will assist you.
---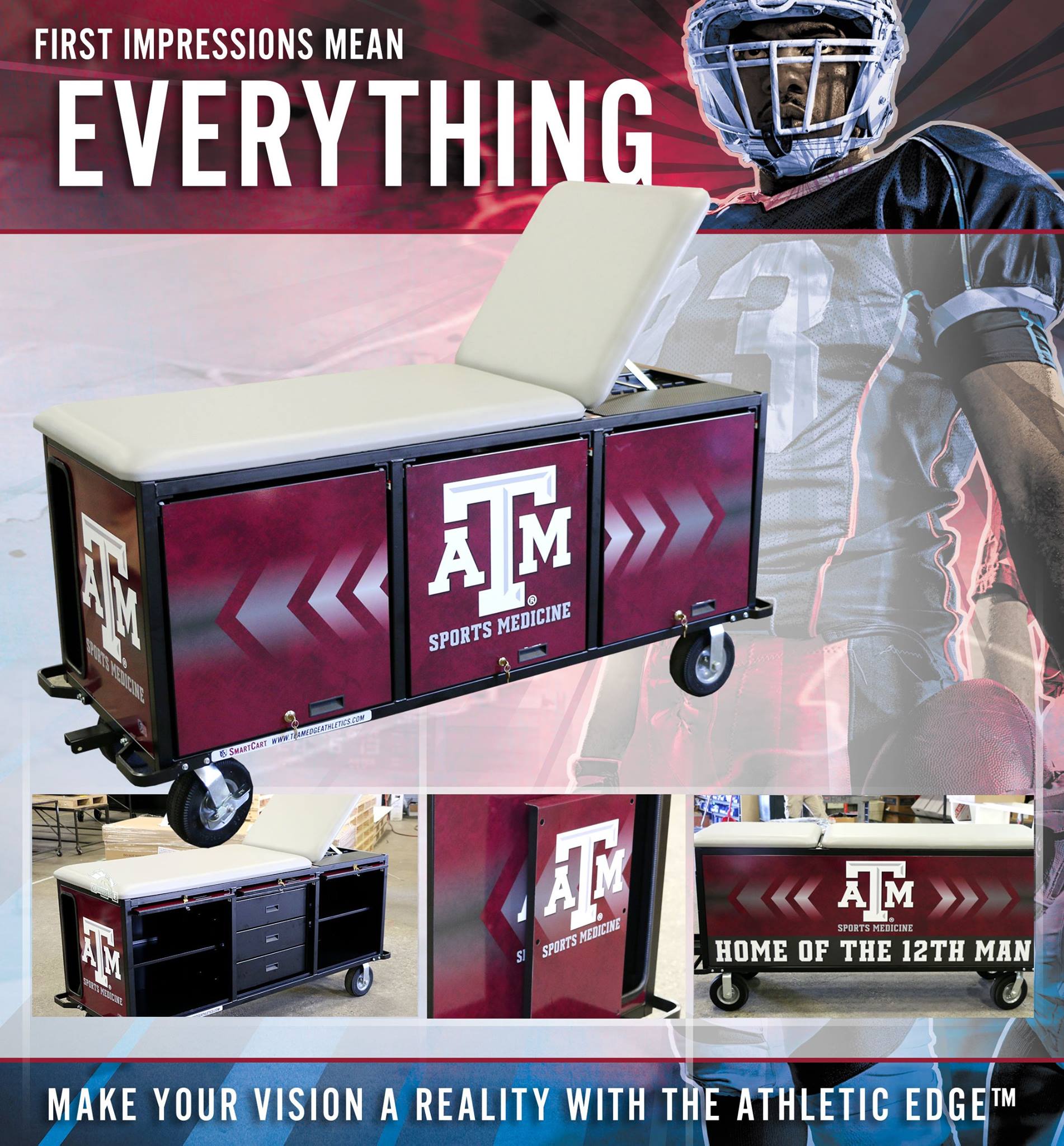 RELATED POSTS